Leigh Lambert has often been referred to as a painter of nostalgic and sentimental images. Taking inspiration from his own childhood in Newcastle-Upon-Tyne, his work evokes fond memories and commemorates wonderful moments in time. In his latest limited edition, Pride of Britain, Leigh captures the spectacle of the British street party, the collaborative celebration of a community rejoicing together on a special occasion.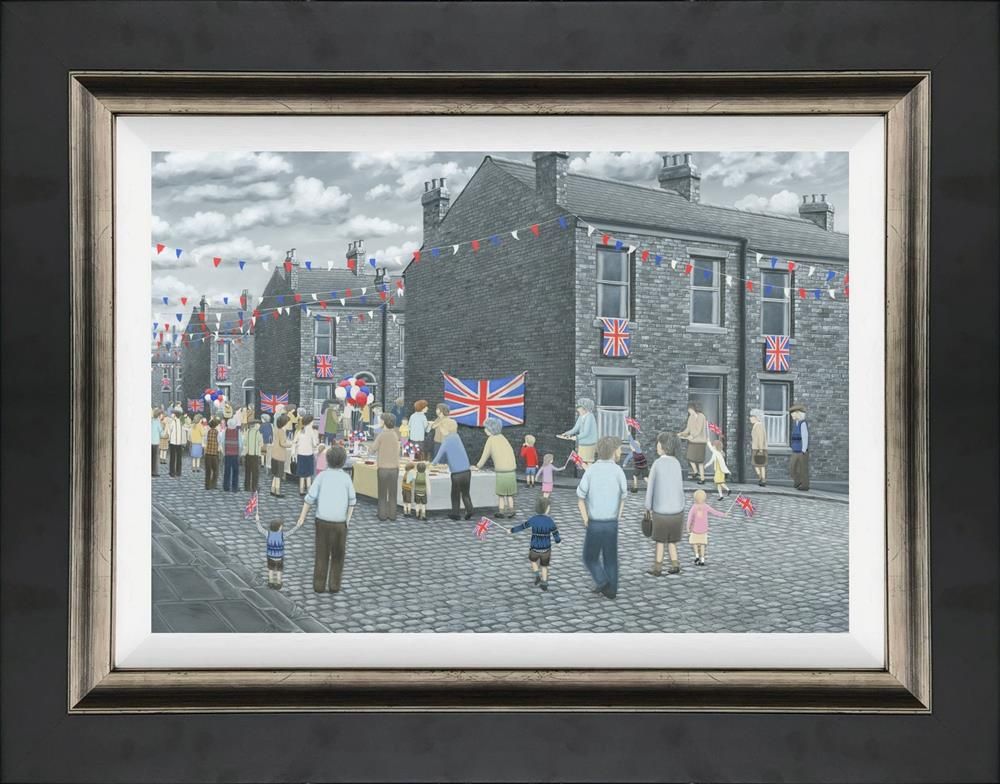 Pride of Britain – A Limited Edition of 95, Framed in Black to 55 x 67 cm, Cost £ 395
Likened to the work of L.S. Lowry, Leigh's artwork records the nuances of everyday life in a wistful portrayal of human activity and enjoyment on populous streets. People move about lovingly observed in the moment, with a sense constant human interaction that is familiar, timeless, and universal.
Adopting a stylised realism, Leigh's technique is painstakingly accurate. He prefers the surface on which he paints to be solid and smooth, and consequently he primes his board six times to achieve the desired finish. Consequently, the surface of his oil paintings is exceptionally refined. He works in layers, beginning with the sky, painting from the background to the foreground. His use of colour is minimal, optimistically applying splashes of colour only to the figures that play amidst the otherwise monochromatic landscapes. This vibrancy of colour captures the mood of joy and vitality and often denotes symbolism in the work.
Leigh first began winning awards for his work in 2014 and has enjoyed an extraordinarily successful career to date, with countless limited editions collections sold out within weeks of release. His original paintings are highly sought-after, and due to the technique that he employs they are quite a rarity. For Leigh, he hopes that his work has impact on the viewer and enriches their lives by stirring up positive, nostalgic feelings and memories. To have his work in pride of place in someone's home is a huge privilege and he simply "couldn't wish for better!"