About Padstow | Five Free Things To Do | The History of Padstow
Seven Bays for Seven Days
Most of the beaches and foreshore along the Camel Estuary immediately near to Padstow are dog friendly all year round while two ( St Georges Well and Polzeath ) have restrictions during the Summer season.
Padstow itself is of course also dog friendly with most shops, pubs and cafes welcoming dogs to their premises. You can also take dogs, sometimes needing to be on leads to protect the wildlife, along the South West Coastal Path and most of the beautiful bays ( there area restrictions at Trevone ) of the well known Seven Bays For Seven Days.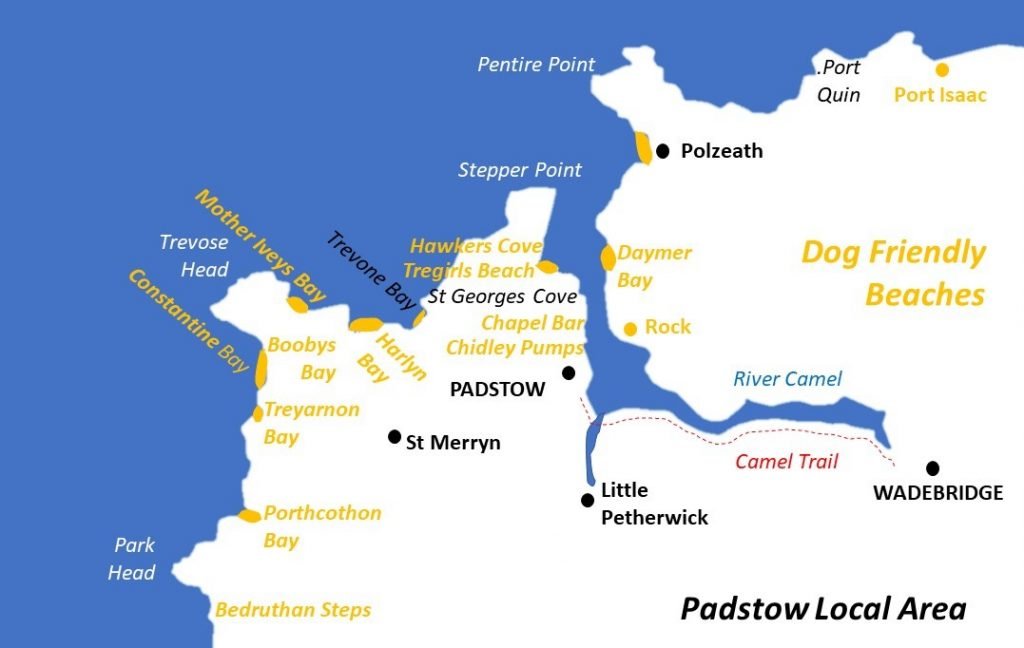 Padstow and West Side of the Camel Estuary
Chidley Pumps or Lower Beach is accessed from Chapel Stile Fields and is a 5 minute walk from Padstow Harbour. It is a small pebbly inlet which is completely covered at high tide while the ferry to Rock leaves from here at low tide. There is also access over and round the rocks onto Chapel Bar at low tide.
Chapel Bar is the exposed strip of sand and pebbles which runs along the length of the Camel Estuary to St Georges Cove at low tide. Care must be taken not to get cut off here when the tide comes in as it is completely covered at low tide !
St Georges Cove is approximately half a mile from Padstow and is easily reached by the coast path. The beach gets its name from St George's Well, an ancient holy well and spring located in the vegetation that grows behind it. The cove is a very small sandy inlet at high tide. Dogs are Banned at St Georges 10am to 6pm from July 1 to August 31.
Tregirls Beach ( aka Harbour Cove ) is at the end of the Camel Estuary where it meets the sea and is near to the location of Padstow's infamous Doom Bar – a spit of sand that juts out into the channel and has been a bane on shipping for centuries. The beach is a beautiful extensive area at low tide with a relaxed, wild feel as it is sufficiently remote to never be crowded even in high season. The beach and estuary is on one side while nature is to the rear behind the extensive dunes and there is also a small marshy stream and woodland at the northern end as well.
Hawkers Cove forms an expanse of sand stretching almost 1.5 miles from the old lifeboat station and joining up with Tregirls Beach. There is limited parking nearby and fairly convoluted access which means you will often be one of only a handful of people on the beach. At higher tides Hawkers Cove becomes completely cut off from Tregirls Beach and is a much more intimate affair with rocks rising up to provide shelter to the small patch of sand and slipway.
Along with the row of coastguard cottages, the former lifeboat house at Hawker's Cove dates back to the 1800s when it housed the original Padstow lifeboat, a four man rowing boat. In 1967 the lifeboat station was moved a few miles down the coast to Mother Iveys Bay.
From Padstow at low tide however, it is possible to walk with your dog, accessing the Camel Estuary foreshore and beach from the steps down to Chidley Pumps or Lower Beach, walking along the Chapel Bar, past St Georges Cove ( keeping strictly alongside the Camel Estuary ) and onto Tregirls Beach before reaching Hawkers Cove, approximately a mile and a half from Padstow. You can return to Padstow the same way or along the coast path.
The coast path runs from Padstow at Chapel Stile Field and follows the Camel Estuary to the Doom Bar at the mouth of the Estuary and the headland known as Stepper Point. It then continues beyond for further Walks Along the Coast.
Rock and the East Side of The Camel Estuary
Rock Beach is a long sandy beach which at low tide stretches from Porthilly Cove north to Daymer Bay. It is accessible from Padstow by a regular ferry service during the day time.
Daymer Bay Beach is a stretch of sand bordered by dunes. It is sheltered with a gently sloping beach making it safe for swimming. There are excellent views from Brae Hill at the south end of the beach and St Enodoc Church is nearby where the former Poet Laureate, John Betjeman is buried.
Polzeath Beach is a beautiful expanse of sand with ideal conditions for learning to surf and seasonal lifeguard cover. The beach itself is enormous at low tide, extending around half a mile in all directions. At high tide however the beach shrinks to just a small patch of sand in front of the village. Dogs are Banned on Polzeath Beach 10am to 6pm from July 1 to August 31.
At low tide, it is possible to catch the ferry to Rock from the steps down to the beach at Chidley Pumps at Padstow, and then walk with your dog along Rock Beach to Daymer Bay Beach before joining the coast path to carry onto Polzeath Beach approximately a mile away. You can return to Rock the same way or along the coast path.
Further afield, there are many more dog friendly beaches on this part of the North Cornwall coast and in particular the Seven Bays for Seven Days.
Dog Related Art in Quay Art
We are very dog friendly ourselves and offer a superb wide range of dog sculptures (in ceramic, nickel resin and bronze), cards and paintings as limited editions and originals. Please come and see us in the gallery if you can as not all our dog related art work is available online.
See Sculptors and Irish Terrier categories in our online shop