About Padstow | Dog Friendly Beaches | Five Free Things To Do
The History of Padstow
Within just a few miles of Padstow, you can find a beautiful new bay or beach for every day of the week along this stunning part of the North Coast of Cornwall. Known affectionately as "Seven Bays For Seven Days", each bay is uniquely different providing a great opportunity to explore the diversity of sand and sea of the beaches or the dramatic views from the coast alongside and between them.
The Seven Bays cover approximately seven miles of glorious Cornish coastline. All are dog friendly all year round except for Trevone Bay where dogs are Banned at 10am to 6pm from July 1 to August 31.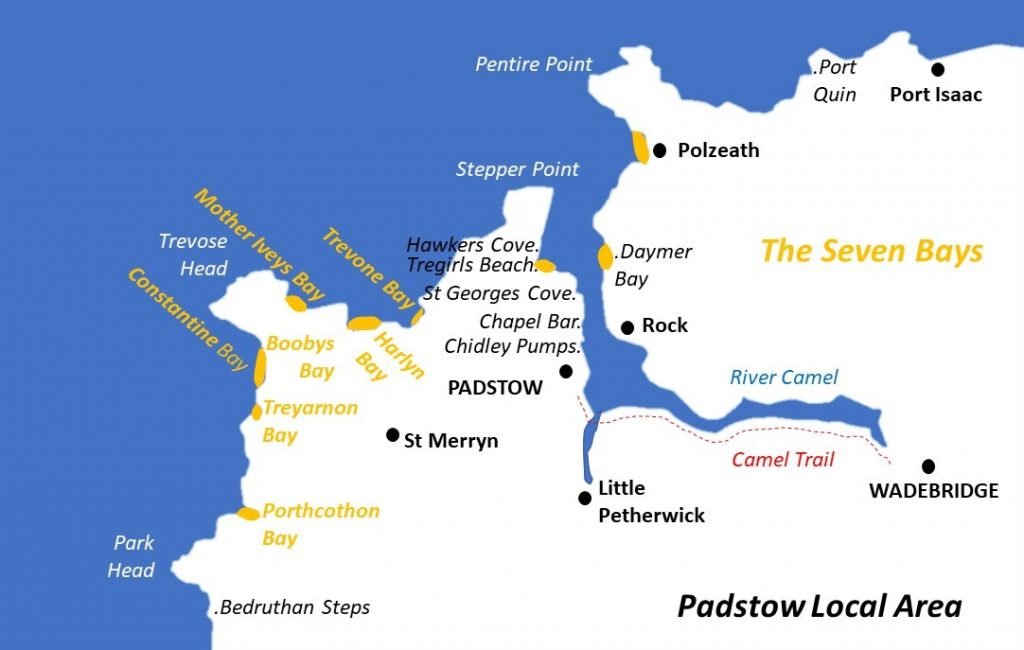 Porthcothan Bay – is a small cove backed by grassy dunes popular for sunbathing and families. It is best suited to swimming, board sports and surfing for beginners due to the sheltered sea. At low tide, the beach connects with small inlets to the north and south to offer a large expanse of sand while at high tide the beach virtually disappears but is well protected from swell and winds due to the cliffs. The coastal path gives fabulous panoramic views as well as being home to a variety of wildlife.
The walk along the coastal path from Porthcothan Bay to Treyarnon Bay is approx 2 miles and takes 60 – 90 mins depending upon how long you stop to look at the spectacular views !
Treyarnon Bay – is a lovely sandy beach with low waters popular with families and body boarders. Surrounded by low cliffs with plenty of rock pools and a natural swimming pool formed on its northern side. The beach does however have a very dangerous southern side due to the currents and tide that comes in very quickly.
There is a gentle headland walk between Treyarnon Bay and Constantine Bay which takes 15 – 20 mins. This is a good spot to watch the sun go down.
Constantine Bay – is an idyllic crescent of golden sand backed by a network of impressive high dunes. It has a large rocky reef at its southern end and is separated from its nearby sister beach, Booby's Bay, by a thin rocky point.
This is a very popular surfing beach producing top quality waves but it is best suited to experienced surfers due to the hidden rocks, dangerous rip currents and because the beach shelves quickly at high tide. It can often be unsafe for swimmers because of this so care is needed.
You can access the coastal path by steps at the northern end of Constantine Bay for an easy 5 min walk to Booby's Bay.
Booby' s Bay takes its name from the 'Booby' seabird which can be seen in the area. The low tide exposes a wide sandy beach beyond the rocks near the coastal path with extensive scope for rock pooling. It also joins up with its nearby sister beach, Constantine Bay, to form an arc of golden sand over half mile long with plenty of space for everyone. There is no beach however at high tide the whole bay dissapears.
Booby's bay is also well known for the shipwreck of the three masted sailing ship Carl of the German navy which was beached and abandoned here. The ribs and the anchor of the wrecked ship appear periodically as the sand is moved by the sea and the prevailing currents.
You can walk between Booby's Bay and Mother Ivey's Bay in 15 – 20 mins directly or in 30 – 45 mins along the coastal path.
Mother Ivey's Bay ( aka Polventon Beach ) was first named in 1870 after a local wise woman and white witch ! It is a very attractive bay with great coastal views, sparkling blue-green waters ( when the sun shines ) and soft sand which is secluded and sheltered from the winds by Merope Rocks.
Since 2006, it is also the location of the RNLI's Padstow Lifeboat station which is an impressive structure in its own right built high above the water with steep staircase access from the cliffs.
Harlyn Bay is a great family and surfing beach, being particularly suitable for novice surfers as it is more sheltered than nearby beaches. This is a beautifully wide and spacious crescent of sand with a pebble beach section, rock pools to explore and a stream that flows into the beach.
A 20 -30 minute walk along the coast from Harlyn Bay will take you to Trevone Bay.
Trevone Bay ( aka Porthmissen Beach ) – Just two miles west of Padstow, Trevone is a popular spot for surfers owing to its clean waves and gently sloping sand. It is a Site of Special Scientific Interest with an extensive sandy beach which is surrounded by striking cliffs and also a large rocky beach nearby with rock pools, inlets and caves. This is a Blue Flag beach and is rated for its very high cleanliness.
Trevone Bay also features the awe inspiring natural sink hole ( aka Round Hole ) which is clearly visible in the sloping fields above the beach. This is approximately 80 feet deep and has been formed from a collapsed sea cave. Take great care as there are no barriers around it !
For a more detailed description of the walk along the Seven Bays see Hiking the Seven Bays Near Padstow from Global Shenanigans.
Cornish Beach Paintings in Quay Art
You are not the only person inspired by the views of the Seven Bays as one of our most popular artists, Duncan Palmar, has captured the coastal scenes perfectly in either the range of his limited edition prints or his new original oil paintings. You can also commission a painting of your favourite view.