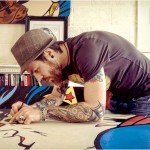 JJ Adams is a mixed media artist from South West England currently living and working in London.
He uses a range of mixed media in his work from spray paint to hand painting acrylics, screen printing, collage and digital matte painting as well as photography.
We always have a selection of JJ Adam's work on display from the full range shown in our online shop. You can order in the gallery or online for free delivery.
Click on the image left to go to our online shop.
Secondary Market ( For Sold Out Work )
If you are looking for JJ's earlier sold out work we may be able to locate it in the secondary market. Just let us know the details and we will contact potential sellers on your behalf.
Latest Collections