JJ Adams latest Collection consists of a wide variation of themes, mediums & styles that really offers something for everyone. From the highly collectable "Tattoo Icon" series of artworks, to the much loved & sought after "mini-series" limited-editions, such as the "Rule Britannia" & "Dirty Disney" selections – plus some interesting new themes to mix things up!
There is also a stunning new Original Art Collaboration with Ghost based on JJ's iconic "Full Metal Twiggy Tattoo" picture which has been hand embellished in Ghost's unique Urban style.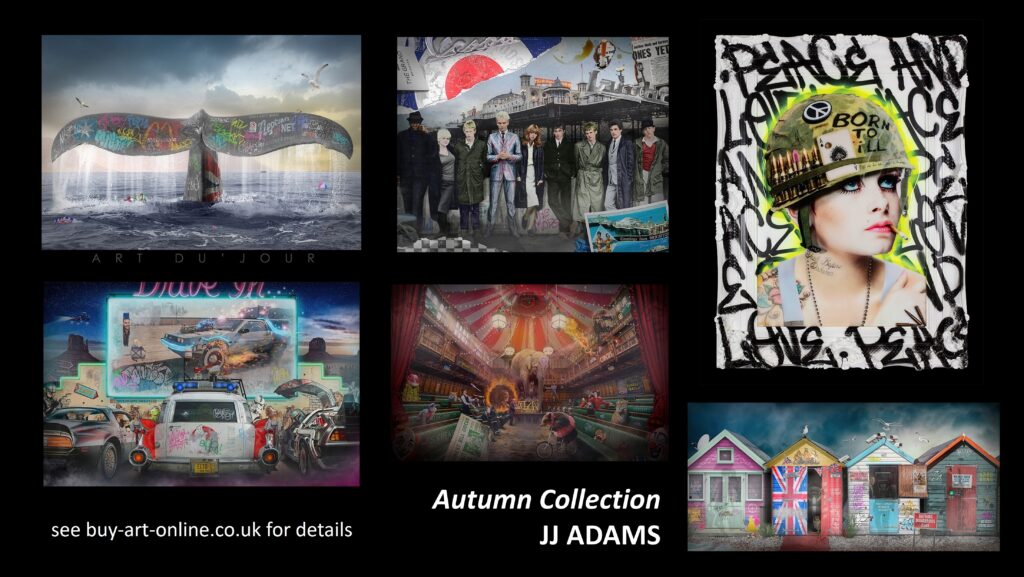 From Top Left Clockwise …
A Whales Tale for those with good memories is JJ's stunning 90's throw-back reminder of where so many of us shopped for our art – back when it seemed almost every high street in the country had an "Athena" store. We would flick through the many various poster racks, filled with photography based artworks & prints, choosing between the tennis player scratching her bum and the shirtless hunk holding the baby !! Taking one of the famous "Talbot" marine life images as inspiration, this modern take on the French photographer's classic, is the perfect homage to our art buying heritage.
My Generation
Full Metal Vandal is a series of ten Original artworks which have been born out of an incredible meeting of artistic minds, between two of the biggest names in the art world right now, JJ Adams & Ghost
These stunning, three dimensional and bespoke collaboration artworks are totally unique & fully hand embellished by Ghost at their prolific South Coast studios. Wishbone's latest signing have been working closely with JJ himself – in using the Iconic Twiggy Tattoo Portrait, "Full Metal Twiggy" from JJ's renowned tattoo portfolio. In adding their highly accomplished street art style to fully emphasise the original imagery, JJ's classic take on a famous Twiggy has a new lease of life and will certainly attract a new & more eclectic audience. Close inspection reveals a whole series of unique additions & elements, such as bullet shells cast in resin & hand grenades.
Life's a Beach has been on JJ's radar at the studio for what seems like years – and now it's finally here, we're glad to see it was certainly worth the wait ! The original "Beach Huts" (released back in 2018) was incredibly well received. As some will remember, the first version was a more square, landscape artwork and JJ felt that those dimensions compromised the composition somewhat, so this brand new release is the full size it was always supposed to be.
As with all good JJ Adams artworks, there are lots of hidden references to be found here, most notably the clever shadows – giving away the owners of each of the holiday cabins !
Send In The Clowns is one of JJ's most accomplished and heavily detailed artworks for some time…. In a time of such political uncertainty, it takes artistic satire to a whole new level, from Mr. Rees-Mog having pie in his face, to Boris being attacked by a lion, you can spend hours looking over the hidden references in this one….. Rarely do artists hit the nail on the head as hard as this when is comes to some good, old-fashioned satire !
Double Feature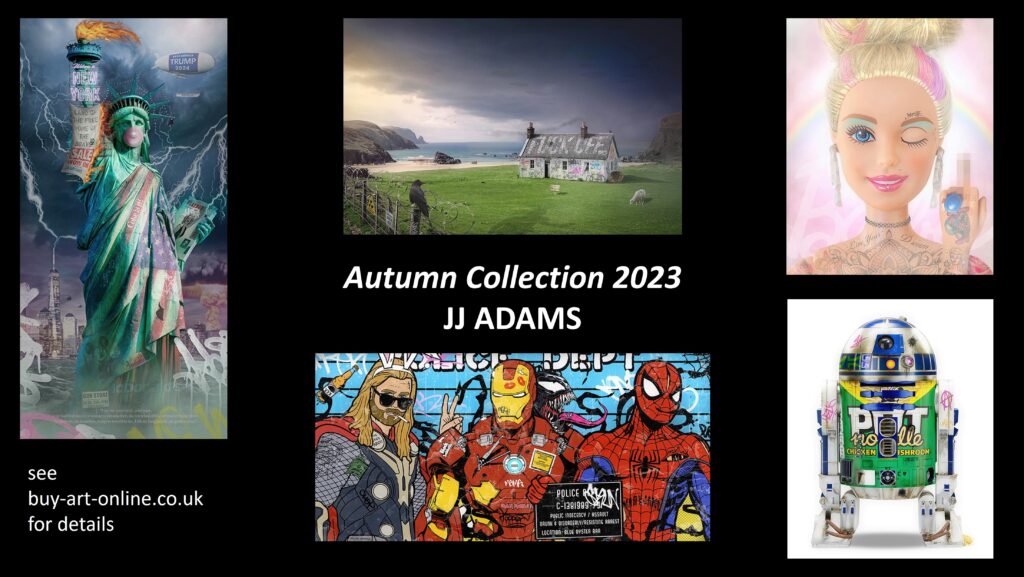 From Top Left Clockwise …..
Trump's Liberty
Approaching Storm is a clever theme and a new style for JJ to approach. At first glance, this contemporary take on a classical and traditional British coastal seascape scene includes what appears to be a relatively uninteresting, remote, graffiti covered cottage. Closer inspection reveals so much more…… First given away by the "Area 52" sign on the property's fence, the "first to arrive" can be seen in the distance on the beach, with the rest of its friends remaining subtly "hidden" in the clouds, obviously taking note of the clear sign on the roof of the cottage.
We Girls Can Do Anything
Rusty Innards
Un-Usual Suspects