Irish Terrier owners are part of a global network and they are all very proud of their pets and this unique breed of dog. So much so that Susi Whittaker, our Artist In Residence, who owns two dogs herself, was approached via an American owner to be featured in this month's newsletter of the Irish Terrier Club of America.
You can read the article below and see Susi's collection of Irish Terrier paintings and pictures in our online store here… Irish Terriers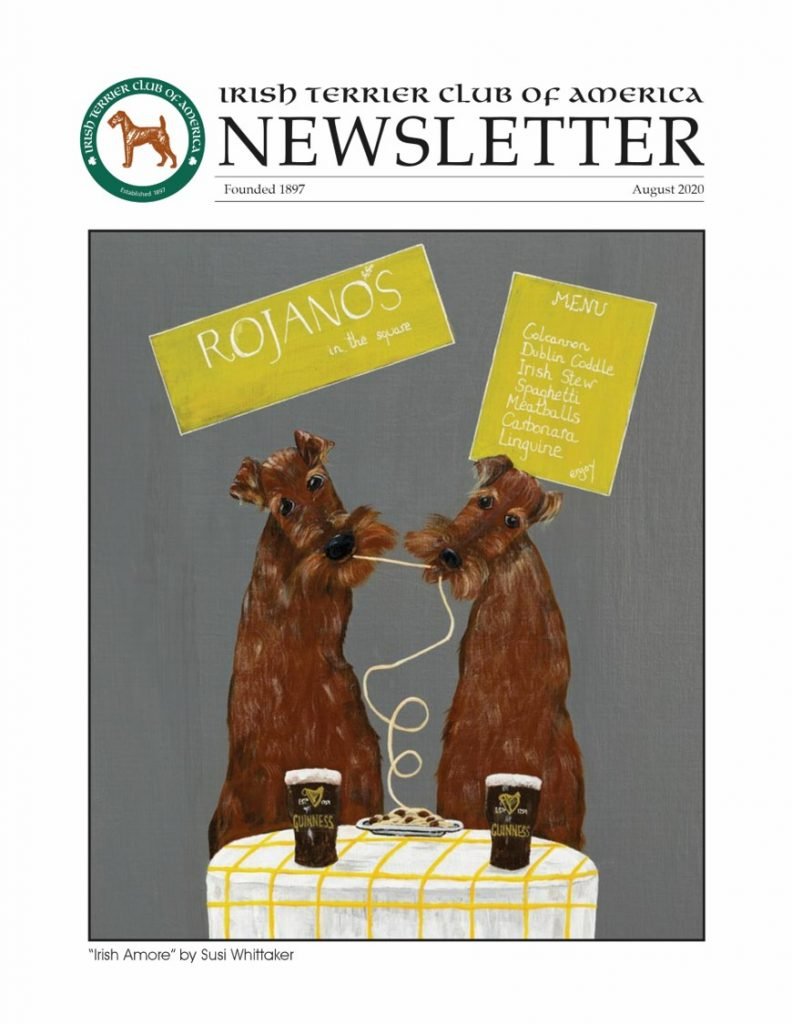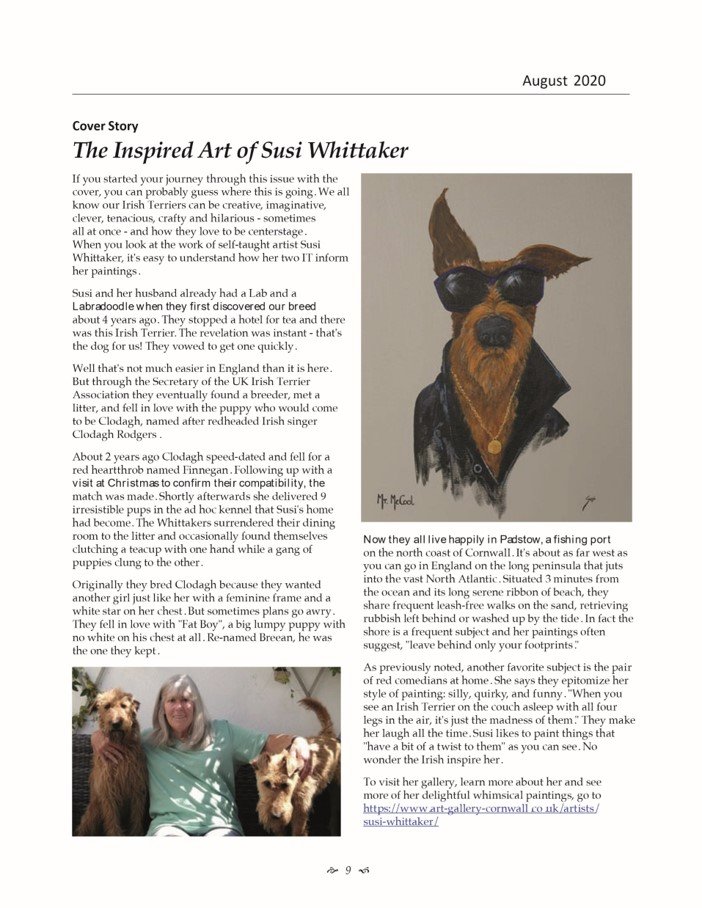 Cover Story from ITCA
The Inspired Art of Susi Whittaker
If you started your journey through this issue with the cover, you can probably guess where this is going . We all know our Irish Terriers can be creative, imaginative, clever, tenacious, crafty and hilarious – sometimesall at once – and how they love to be centerstage . When you look at the work of self-taught artist Susi Whittaker, it's easy to understand how her two IT inform her paintings .
Susi and her husband already had a Lab and a Labradoodle when they first discovered our breed about 4 years ago . They stopped a hotel for tea and there was this Irish Terrier . The revelation was instant – that's the dog for us! They vowed to get one quickly .
Well that's not much easier in England than it is here . But through the Secretary of the UK Irish Terrier Association they eventually found a breeder, met a litter, and fell in love with the puppy who would come to be Clodagh, named after redheaded Irish singer Clodagh Rodgers .
About 2 years ago Clodagh speed-dated and fell for a red heartthrob named Finnegan . Following up with a visit at Christmas to confirm their compatibility, the match was made . Shortly afterwards she delivered 9 irresistible pups in the ad hoc kennel that Susi's home had become . The Whittakers surrendered their dining room to the litter and occasionally found themselves clutching a teacup with one hand while a gang of puppies clung to the other.
Originally they bred Clodagh because they wanted another girl just like her with a feminine frame and a white star on her chest . But sometimes plans go awry . They fell in love with "Fat Boy", a big lumpy puppy with no white on his chest at all . Re-named Breean, he was the one they kept .
Now they all live happily in Padstow, a fishing port on the north coast of Cornwall . It's about as far west as you can go in England on the long peninsula that juts into the vast North Atlantic . Situated 3 minutes from the ocean and its long serene ribbon of beach, they share frequent leash-free walks on the sand, retrieving rubbish left behind or washed up by the tide. In fact the shore is a frequent subject and her paintings often suggest, "leave behind only your footprints ."
As previously noted, another favorite subject is the pair of red comedians at home . She says they epitomize her style of painting: silly, quirky, and funny . "When you see an Irish Terrier on the couch asleep with all four legs in the air, it's just the madness of them ." They make her laugh all the time . Susi likes to paint things that "have a bit of a twist to them" as you can see . No wonder the Irish inspire her .
To visit her gallery, learn more about her and see more of her delightful whimsical paintings, go to Quay Art in Padstow.
See The Irish Terrier Collection